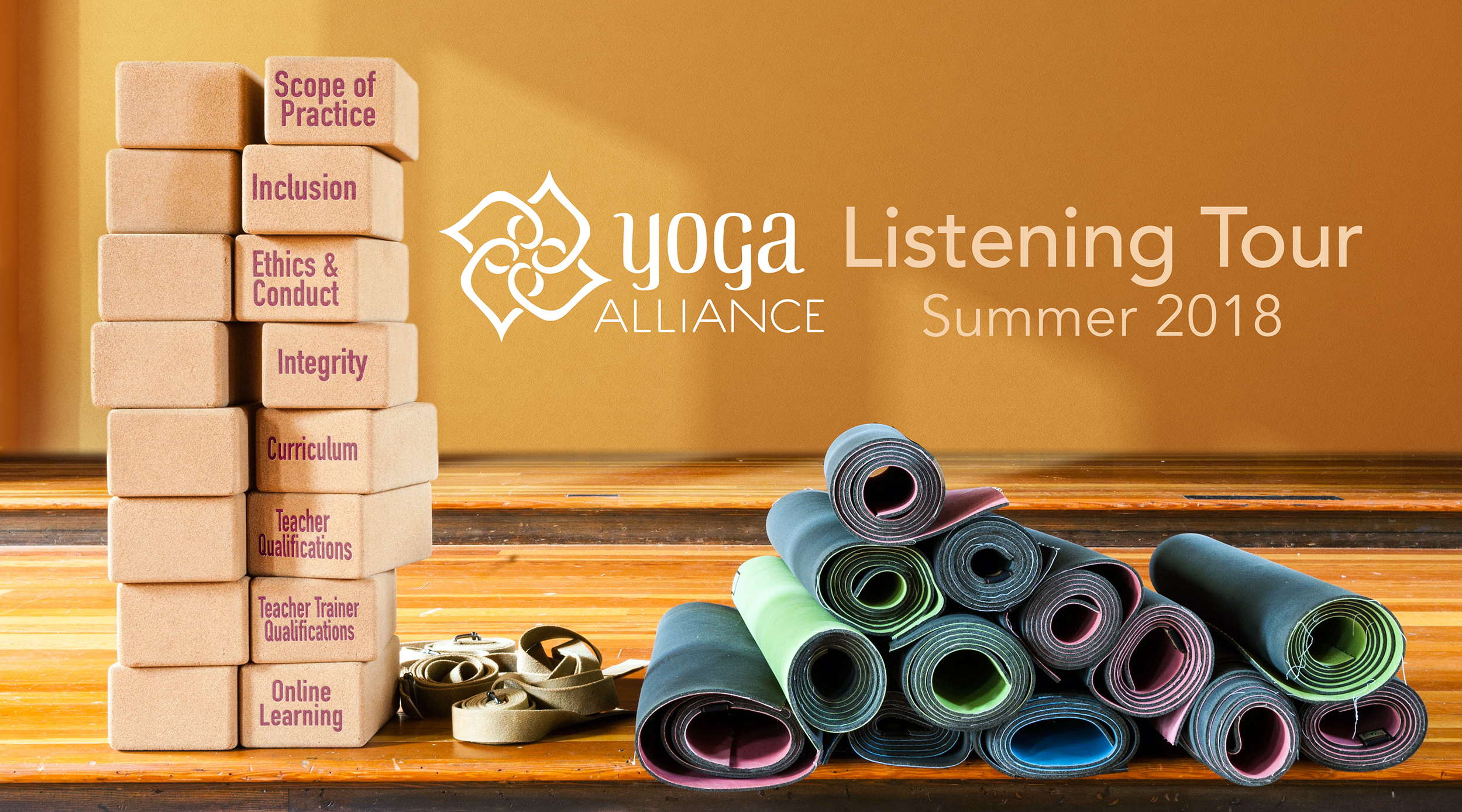 Yoga Alliance Listening Tour: Cities and Dates
We want to hear your feedback.
In order to better understand the perspectives of different yoga communities, Yoga Alliance CEO David Lipsius and COO Shannon Roche are embarking on a journey across the U.S. to personally share with you the ways in which the organization is changing to better serve the yoga community and to request your guidance and feedback.
Past Tour Events with Constituents
---
Tampa, Florida
The Lotus Pond Center for Yoga and Health 

|
6201 Lynn Road, Tampa, FL 33625
Nashville, Tennessee
Sanctuary for Yoga 

|
2002 Richard Jones Rd Suite C102, Nashville, TN 37215
Asheville, North Carolina
Asheville Yoga Center 

|
211 S Liberty St, Asheville, NC 28801
Pittsburgh, Pennsylvania
One Point One 

|
4929 Penn Ave, Pittsburgh, PA 15224
Detroit, Michigan
Detroit Yoga Lab 

|
69 W Forest Ave, Detroit, MI 48201
Columbus, Ohio
Yoga on High 

|
1020 Dennison Ave, Columbus, OH 43201
Milwaukee, Wisconsin
Urban Om 

|
2410 N Farwell Ave, Milwaukee, WI 53211
Kansas City, Missouri
Institute of Interdisciplinary Yoga Studies at Maya Yoga 

|
215 W 18 St #200, Kansas City, MO 64108
Minneapolis, Minnesota
Radiant Life Yoga 

|
2657 Dupont Ave S, Minneapolis, MN 55408
Seattle, Washington
8 Limbs Yoga Centers Capitol Hill location 

|
500 E Pike St, Seattle, WA 98122
Portland, Oregon
YoYo Yogi 

|
1306 NW Hoyt St #101, Portland, OR 97209
Omaha, Nebraska
Evolve to Harmony
|
2521 S 133rd Plaza, Omaha, NE 68144
Accessible Yoga Conference
Toronto, Ontario, Canada
Soulfest NYC
New York, NY
Yoga Service Council Conference
Rhinebeck, NY
Yoga Journal Live
New York, NY
International Yoga Festival
Rishikesh, India
Sedona Yoga Festival
Sedona, AZ
Focus Group One
Dallas, TX
The various yoga communities around the globe are incredibly expansive in their philosophies, practices, methods
and
cares.
At Yoga Alliance, we believe we are better for that diversity, especially when we come together in yoga to channel our collective energy together for the greater good.
The discussion will include details on the Yoga Alliance Standards Review Project, a comprehensive and inclusive review to ensure that our standards are appropriately evolving over time. As a member organization, Yoga Alliance is most known for its standards and credentials. Because the Yoga Alliance credential is immediately recognizable by most yoga practitioners, it is vitally important that teachers and practitioners understand what our standards mean.
By developing standards and offering credentials to those who meet the conditions of the standards, Yoga Alliance:
o  Provides teachers and schools a measure for quality, safety and performance that they can claim in order to get jobs or promote themselves to the public;
o  Assures quality, safety and performance for customers/students of teachers and schools;
o  Allows those most knowledgeable on the subject matter to shape the field;
o  Discourages government agencies from standardizing all of yoga into narrow definitions;
o  Improves competence and effectiveness of its members.
At Yoga Alliance, we know that personal connections and respectful, peaceful and conscious communication are keys to successful relationships, so we look forward to meeting you and opening a dialogue that we hope will continue for years to come.