Project Plan and Event Schedule
Yoga Alliance is conducting a comprehensive and inclusive Standards Review Project for the first time in its 18-year history. The first big step in this process will be a survey for members and non-members, which will be released in six languages the first week of February 2018.  Please keep an eye out for an email from us with the survey — your input and voice are incredibly vital to this process.
In Q4 of 2018, Yoga Alliance will compile and review public feedback and working group recommendations and will draft and publish proposed changes to the standards. We will invite additional public feedback and may develop additional drafts based on what we learn. We will publish a final draft of proposed revisions by the end of 2018, and our intention is to bring as many of the final proposed revisions to a member vote at that time.
Look for discussions around the Standards Review at each of the festivals and events we plan to attend this year. Additional international events and smaller convenings, both in the US and abroad, will be listed as they are confirmed.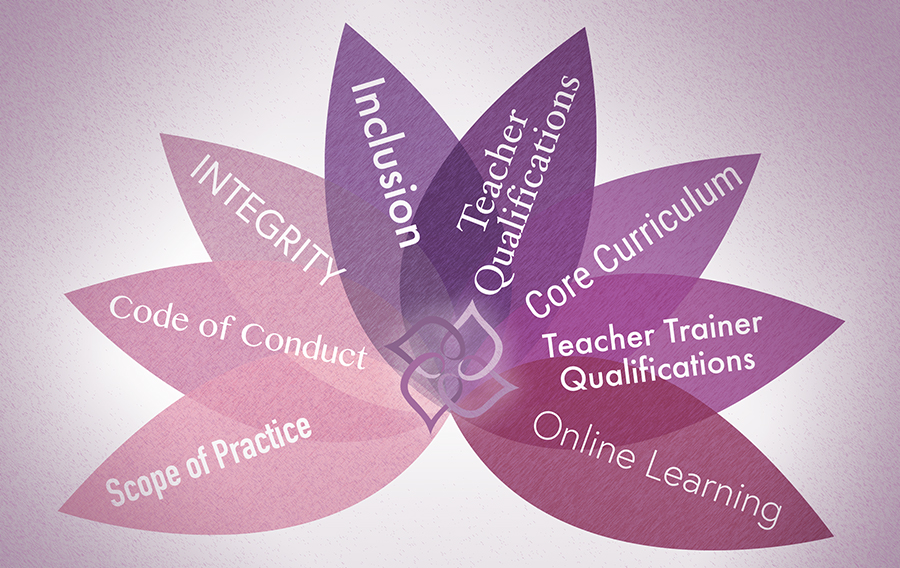 Yoga Alliance has identified eight key areas of inquiry for this Standards Review: Scope of Practice, Code of Conduct, Integrity, Inclusion, Teacher Qualifications, Core Curriculum, Teacher Trainer Qualifications, and Online Learning. 
In addition to direct feedback from members and non-members, YA will form a working group of 10-15 subject-matter experts from within and outside yoga for each of these areas of inquiry. Working groups will address specific questions on their topics and will publish a final report of their recommendations.
PAST EVENTS
Dec 6, 2018 | Virtual Town Hall
Nov 15, 2018 | Virtual Town Hall
Nov 29, 2018 | Virtual Town Halls
Oct 15-17, 2018 | Symposium on Yoga Research, Lenox, MA
Oct 19-21, 2018 | Om Yoga Show, London, UK
Sep 12-17, 2018 | Bhakti Fest, Joshua Tree, CA
Aug 1, 2018 | Listening Tour: Portland, Oregon
Aug 3, 2018 | Listening Tour: Seattle, Washington
Aug 7, 2018 | Listening Tour: Minneapolis, Minnesota
Aug 8, 2018 | Listening Tour: Kansas City, Missouri
Aug 10, 2018 | Listening Tour: Milwaukee, Wisconsin
Aug 13, 2018 | Listening Tour: Columbus, Ohio
Aug 15, 2018 | Listening Tour: Detroit, Michigan
Aug 17, 2018 | Listening Tour: Pittsburgh, Pennsylvania
Aug 20, 2018 | Listening Tour: Asheville, North Carolina
Aug 22, 2018 | Listening Tour: Nashville, Tennessee
Aug 22, 2018 | Listening Tour: Tampa, Florida
Jul 19-22, 2018 | Wanderlust Squaw Valley, North Lake Tahoe, CA
Jul 31, 2018 | Listening Tour: Omaha, Nebraska
Jun 2, 2018 | SoulFestNYC, NYC
Jun 14-17 , 2018 | Hanuman Yoga Festival, Boulder, CO
Jun 14-17, 2018 | IAYT's Symposium on Yoga Therapy and Research, Reston, VA
Jun 22-24, 2018 | Accessible Yoga Conference, Toronto, Canada
May 11-13, 2018 | Yoga Service Council Conference, Rhinebeck, NY
Apr 19-22, 2018 |Yoga Journal Live, NYC
Apr 29, 2018 | Yoga Reaches Out, Foxborough, MA
Mar 1-7, 2018 | International Yoga Festival, Rishikesh, India. Yoga Alliance President and CEO David Lipsius will be attending as a practitioner; please feel free to introduce yourself and say hello.
Feb 8-11, 2018 | Sedona Yoga Festival, Sedona, AZ. Join our Chief Yoga Advancement Officer, Andrew Tanner, in meaningful conversations about the present and future of Yoga Alliance:2
• Friday, Feb 9: YA Town Hall & Focus Group: Scope of Practice | 4:30-5:30pm
• Saturday, Feb 10: The Yoga of Pooh: Taoist Wisdom for Any Body | 4:30-5:30pm
Dec 5–7, 2017 | Focus Group One, Dallas, TX. An assembly of select yoga teachers and field professionals will discuss a wide range of topics to identify common observations.
---
JULY | QUALIFICATIONS TO BE A TEACHER TRAINER
Conversation: "What qualifications are necessary to be a trainer of yoga teachers?"
Jul 19-22, Wanderlust Squaw Valley, North Lake Tahoe, CA
JUNE | QUALIFICATIONS OF A TEACHER
Conversation: "What qualifications are necessary to be a yoga teacher?"
Jun 14-17, Hanuman Yoga Festival, Boulder, CO
Jun 14-17, IAYT's Symposium on Yoga Therapy and Research, Reston, VA